PROTECTIVE COVER MATERIALS FOR RESIDENTIAL USE
USE THE ARROW KEYS ← → TO SCROLL AND VIEW ALL FABRIC OPTIONS
SunMaster
Sur Last (7 oz)
Hydrofend
Aqualon Edge (8.75 oz)
Aqualon Edge Soft
WeatherMax 80 (8 oz)
Harbor Time Edge (11 oz)
Marine Vinyl (28 oz)
WeatherMax 3-D (takes shape) (7.2 oz)
Sunbrella Canvas (9 oz)
Firesist (Fire Retardant)
SeaMark (Waterproof) (16 oz)
RecWater (Waterpoof) (16oz)
Stamoid Light (Watrproof) (8.3 oz.)
Nautimar Canvas (Waterpoof) (9oz)
Phifertex Mesh
SunMaster
SunMaster
SunMaster is a 7.5 oz. Solution Dyed Polyester that is the perfect material for a variety of outdoor applications, most notably marine and outdoor living applications. All SunMaster fabrics are specially formulated to withstand the harshest elements mother nature can throw at it. With its excellent color fastness along with its mold and mildew resistance, this is an excellent choice for any job that requires a rugged but rich-looking fabric. While elegant, SunMaster is abrasion resistant, easy to clean, and environmentally friendly. Comes with a 5-year limited warranty. Color: Khaki Only
Sur Last (7 oz)
Hydrofend
Aqualon Edge (8.75 oz)
Aqualon Edge Soft
WeatherMax 80 (8 oz)
Harbor Time Edge (11 oz)
Marine Vinyl (28 oz)
WeatherMax 3-D (takes shape) (7.2 oz)
Sunbrella Canvas (9 oz)
Firesist (Fire Retardant)
SeaMark (Waterproof) (16 oz)
RecWater (Waterpoof) (16oz)
Stamoid Light (Watrproof) (8.3 oz.)
Nautimar Canvas (Waterpoof) (9oz)
Phifertex Mesh
PROTECTIVE COVER MATERIALS FOR COMMERCIAL/INDUSTRIAL USE
USE THE ARROW KEYS  ←   → TO SCROLL AND VIEW ALL FABRIC OPTIONS
Polyester Canvas-PVC (10.5 oz)
SunMaster
DAF CoverFab (9oz)
Tyvek 2.9oz
Nylon 210D (4 oz) & 420D (7 oz)
Herculite Laminated Fabrics (10 &18 oz)
Laminated Polyester Vinyl (10oz)
VCP (14, 16 and 18 oz)
Translucent Reveal (8.5 oz)
Polyester Duck (6 oz)
Clear Vinyl 10 & 20 Gauge
ESD
GVC (18 oz)
Burlington C-3 (Anti-Static Fabric)
MWN Taslan
Safety Color Vinyl – Blaze Orange MS
Polyester Canvas-PVC (10.5 oz)
Polyester Canvas-PVC (10.5 oz)
Made of heavyweight 600×300-denier polyester with vinyl backing. It is woven into a durable canvas and coated with vinyl. Available colors: black, charcoal, light gray, and tan.
SunMaster
DAF CoverFab (9oz)
Tyvek 2.9oz
Nylon 210D (4 oz) & 420D (7 oz)
Herculite Laminated Fabrics (10 &18 oz)
Laminated Polyester Vinyl (10oz)
VCP (14, 16 and 18 oz)
Translucent Reveal (8.5 oz)
Polyester Duck (6 oz)
Clear Vinyl 10 & 20 Gauge
ESD
GVC (18 oz)
Burlington C-3 (Anti-Static Fabric)
MWN Taslan
Safety Color Vinyl – Blaze Orange MS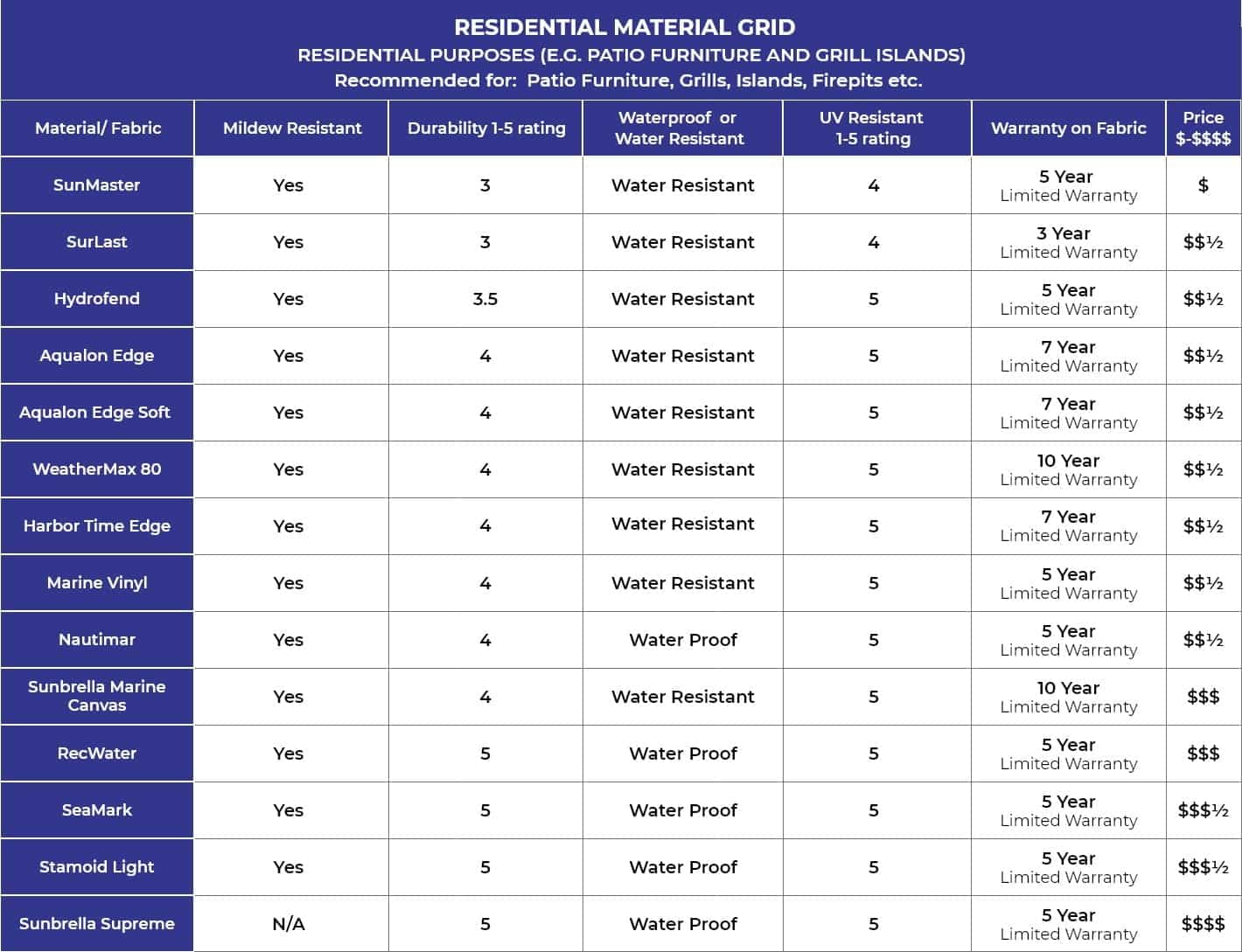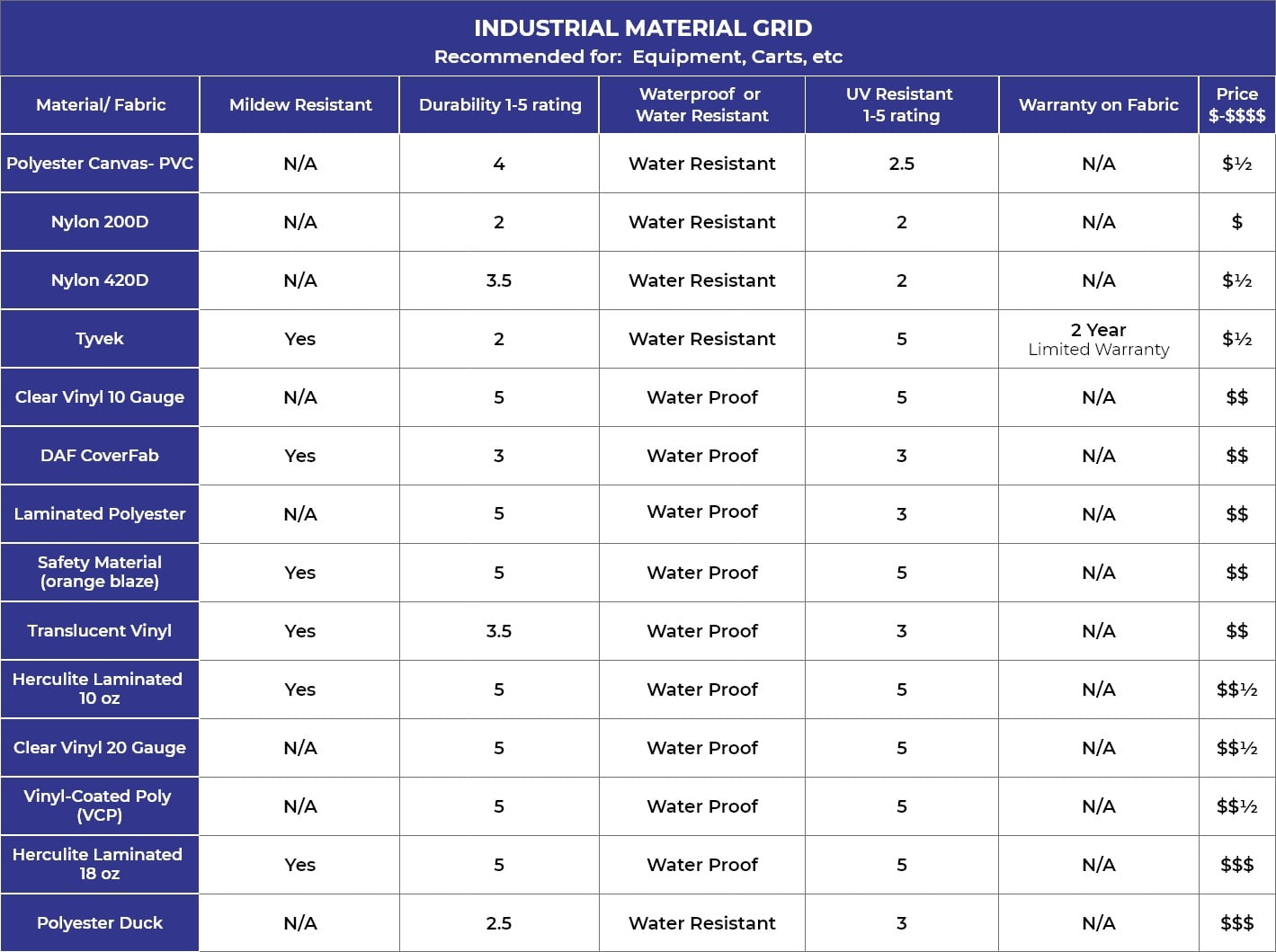 Are you seeking the best custom waterproof covers for your outdoor patio furniture and equipment? At Creative Covers, we don't just make flimsy and generic equipment covers. Instead, we design and manufacture custom-made covers that fit many types of equipment. Some of our products include residential and industrial covers, custom patio furniture covers, chair covers, grill covers, grill island covers, custom cart covers, and much more.
With our amazing Weathermax canopy covers, customers can enjoy their outdoor living areas in style and comfort. These canopies are built with durable and water-resistant materials and come in a variety of colors and patterns. Whether it is for a lunch date or to park a car, these canopy covers will exceed your expectations. The high strength, durability, long-term water retention properties truly make the versatile Weathermax fabric the best option for outdoor applications.
Why are Weathermax Protective Canopy Covers Special?

The industry's most balanced and affordable fabric is the Weathermax canopy covers. It is perfect to be used as grill island covers, cart covers, equipment covers, patio furniture, table and chair covers, and more. With breakthrough UV technology, Weathermax maintains a classy appearance and does not sag during heavy rain, sun exposure, and age. This means that you will not need to replace the outdoor protective cover frequently. These properties makeWeathermax a cost-effective investment for your commercial or residential property.
These protective covers are available in charcoal, light charcoal and sand colors, and that's why they suit any outdoor setting. Creative Covers pays close attention to our customers' requirements so simply send us the exact measurements of your canopy and we will manufacture an outdoor furniture cover that's tailored to those dimensions. With our designers working tirelessly to create a diagram to meet your specifications, we help bring your idea to life.
Below is a helpful grid of commonly used materials and fabrics for outdoor protective covers. To obtain full descriptions of each material, simply scroll down. To view the different color selections, click on the link beneath the
material description.