If you're looking for custom grill covers, look no further than Creative Covers Inc. We've been in the business for years, and we have enough experience to prove that we are one of, if not THE best, grill cover providers. Our quality is guaranteed, and we can cover anything you need!
About Our Custom Grill Covers
Creative Covers Inc. offers custom grill covers that are compatible with any type of outdoor grill. We provide you with custom-designed outdoor barbecue grill covers that will keep your grill protected from the elements. We have a wide range of materials, colors, and patterns for you to choose from. You can choose which fasteners you would like on the custom grill covers: elastic string, Velcro straps, or drawstring.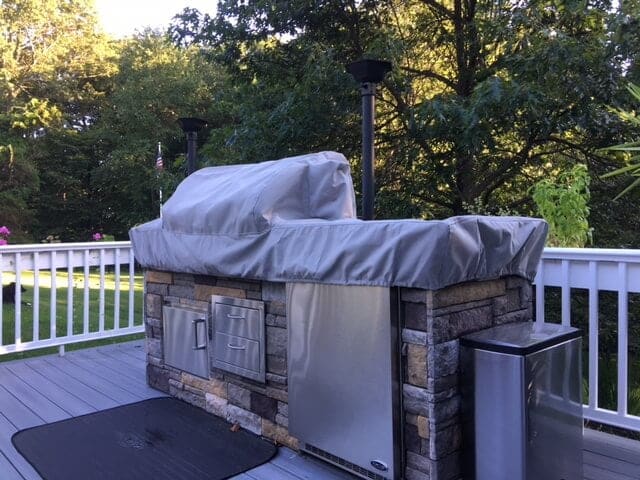 Creative Covers Inc.'s custom grill covers are guaranteed, and the company honors all manufacturing materials warranties. Send us the measurements of your grill and choose the material you prefer. All custom grill covers can be tailored to your specifications using materials such as Tyvek, Sunbrella Canvas, Stamoid Light, Solution Dyed Marine Polyesters, which are all ideal for residential use and protect against all types of weather.
Popular Custom Grill Covers to Choose From
Instead of using makeshift covers or simply covering your grill with a sheet when it is not in use, purchase a custom grill cover. It is suited to your specific grill and isn't a standard cover that fits every grill.
With tailored grill covers, you can up the style quotient of your decor. Even the smallest of things can come to life when creatively crafted. The materials used to make these custom large grill covers offer durability and dependability.
Grill covers can be customized to the style and color of your choice. Covering your grill will ensure that it remains clean and in good working order, no matter what type of weather it faces. We can provide you with a quote with multiple material options based on your measurements and pictures.
You can view a
video
of how to take measurements for your custom grill covers. Here is an easy step-by-step:
Height: Measure from the top of the grill hood (when closed) to the ground. Make sure the grill's top is down.
Length: Measure the front of the grill from left to right. Remember to include side tables if they are in an upright position.
Width or depth: Measure from front to back.
Why Choose Creative Covers Inc.'s Products?
All of our covers are designed and made to specifically fit your grill, which means you get a perfect custom fit every time. We've created countless designs that will not only look great on your grill but also give it maximum protection from harmful weather and UV rays. The same can't be said for store-bought generic grill covers – we're confident you won't find anything better than ours.
For more information about our Custom Grill Covers, feel free to contact us or get a quote from us today.