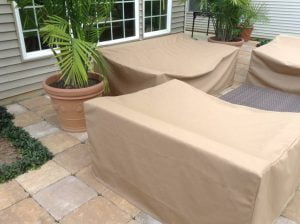 Patios are quite a quaint setting in every household and to use patio coverings canvas to uplift its' looks gives a chic style statement to everyone visiting your home. Creative Covers has been providing handcrafted covers for all types of furniture and equipment for more than two decades. With minute attention to detail and precision with measurement, we are known to deliver high-quality products at affordable costs.
Every patio coverings canvas is made to fit the space perfectly well, without any scope of misalignment and sloppy measurement. The team at Creative Covers Inc. helps the clients to choose from a wide variety of designs and materials that will make their dream of highlighting their patio space seamlessly. They are made of weather-resistant materials that can keep your patio safe from rain, dust, snow or even harsh sunlight. All fabrics come with a manufacturers warranty that can be customized in design and style as per specification. We offer a variety of fasteners such as grommets, turn buttons, shock cord drawstring, Velcro straps, zippers, elastic, etc. We also offer additional custom options including reinforced corners, silk-screening, piping, reinforced stitching, and much more.
All items are made to meet your specific requirement without any compromise on the quality and materials used. Your patio coverings canvas brings out the best in your outdoor space, making them an elegant investment to your residential property. Custom fabricated residential patio coverings is a Creative Covers speciality and our precision to detail makes is absolutely stand out.
Connect with the team of professionals for more knowledge about different covers, today!