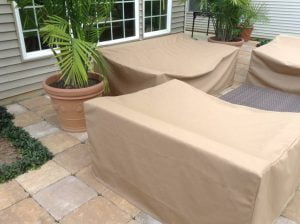 With hundreds of styles and designs to choose from, you patio bar cover is chosen with absolute precision and made-to-order as per your specification. Every bar design is different and we understand the need to keep it protected all year round from any weather uncertainties.
We offer a whole range of materials and patterns to choose from to enhance your bar area. In order to ensure that your outdoors are evenly matched with your general theme of the house, our designers visually represent your design in a model and present it to you to choose from. This makes sure that your patio bar cover is customized as per your expectation. If you think you are now happy with the design, we can always alter it till we reach a final conclusion. Your satisfaction is of utmost importance to us.
Right from finalizing the right material to the type of fasteners, pattern and style, we offer you a whole range of products to choose from. No more waiting and sending pictures till the product is finalized. You can simply visit our website (www.creativecoversinc.com) and go through the type of materials available with us. Get a free quote for your designs today!
Besides manufacturing patio bar covers, we also specialize in creating utility covers, rack covers, furniture and outdoor covers, grill island covers and much more. You can choose the type of cover you wish for and we will deliver it as expected. Connect with our team of experts for more information today!